With our Massachusetts real estate listing service, we provide and live by 3 guarantees.
1. Money Back Guarantee – It's a win / win.
If at anytime you decide to list with another real estate agency, Hillman Real Estate will refer you to a real estate brokerage of your choosing.  You must let us know prior to contacting the new agent or brokerage. Once you have discussed listing your home with the new agent or brokerage we will be unable to refer you. Upon their acceptance of our referral, and the confirmation of your homes closing with that particular agency, you will receive a refund of the money you spent for our MLS flat fee listing service. In short, tell us what agent or brokerage you want to list your home with, we will contact them to create and execute a standard referral agreement, and have them contact you about listing your home. Real estate agencies send each other referrals all the time. Read more about the benefits of a referral by going here.
2. MA Best Price Guarantee
We believe in our our mission and are very proud that we offer such a friendly real estate listing service at such a low cost. To make sure that you are confident that you are paying the lowest possible price, we will beat the price of any comparable competitor. If you are able to show us that another real estate company is offering a listing on the Multiple Listing Service for a lesser price, we will match that price. All you need to do is email the advertised price to us with a link to the offering. Please note that a lower listing price doesn't mean they are offering the same service that we are providing. Compare their agreement to ours and read the fine print and see if they offer a money back guarantee on a 12-month listing like we do. In order for us to match and beat a competitor, they must do everything we do as noted on our listing agreement located here. We do not charge extra for listing changes like most companies do and we have a reputable name and experience behind our service.
3. Our brand will enhance the perception of your listing.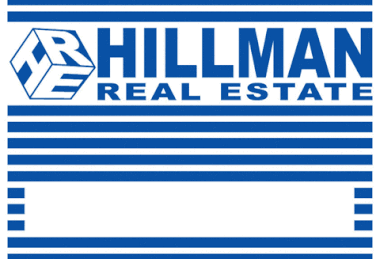 We value our brand. Aside from fanatical customer service and support, our brand is our biggest asset. We have spent years building. In 2017, we decided to extend the Hillman brand to our flat fee MLS sellers in order to bring your property marketing to the next level.  With our service, nobody will know you listed on MLS for a flat fee. This makes a significant difference when marketing and advertising real estate.  Your home is listed on MLS and partner sites under the Hillman name. Our newly designed customizable signs offer a fresh attention grabbing look. Each sign is made right here in New England. Our partner prints on highest quality materials and utilizes the most advanced printing equipment available. Our signs are  24″ x 18″, double sided and made of corrugated plastic, coated with polyurethane to ensure weather resistance. All signs come with a Spider Lawn Stake (not those ugly galvanized steel 'H' lawn stakes politicians use), 3″ numerical stencil set, and permanent jumbo blue marker. USPO Priority Shipping is included. Price: $40.  If you buy two signs the second sign is only $30.
→ Get the process started by heading over to our Agreement Wizard to create, sign and execute the listing agreement online.